Critérium du Dauphiné: key takeaways from the Opening Stages
Heading out the door? Read this article on the new Outside+ app available now on iOS devices for members! Download the app.
The first three stages of the eight-stage Critérium du Dauphiné are in the books and while they were raced over two slightly generic hilly courses, the race has already served up some intriguing racing and confirmed that Jumbo-Visma, and in particular, Wout van Aert, have arrived fit and ready to win. And as the race goes on, it will be fascinating to watch how Jumbo balances housing the three most likely riders to win the overall (Van Aert, Roglič, and Vingegaard) and how they manage the ambitions of these three talented riders.
Below I've broken down what stood out to me from the opening stages and what they tell us to expect as we march towards the more GC-specific stages later in the week and over the weekend.
Stage 1
38.3km: Trek is setting a hard pace on the final climb of the stage in an attempt to dislodge Dylan Groenewegen, whose BikeExchange team contributed a significant amount of pacesetting work earlier in the stage.
32.8km: The increase in pace works and Groenewegen is dropped. His BikeExchange team rallies around him and sets a steady tempo in an effort to keep the gap, currently at one minute, small enough to get him back in the peloton by the end of the stage.
31.4km: After Trek runs out of riders to control the pace, things get spicey towards the top of the climb, with a few riders, including a QuickStep rider, leading a raid off the front. This sees Jumbo send riders to the front to control the pace and is the first time they've had to contribute any real manpower.
28.3km: Jumbo's work is short-lived after Ineos takes things up when the peloton gets over the climb. Their hard pace-making blows the lead to Groenewegen out of 1'30 and puts him out of touch for the stage win.
1.6km: Ineos chills out coming into the finish and this slowing of the pace allows Rémi Cavagna from QuickStep to attack.
1km: Jumbo sends a single rider, Christophe Laporte to reel him back, and just as they make contact with Cavagna, Ineos has Ganna step out with Hayter's leadout on his wheel. Van Aert is smartly sitting right on Hayter's wheel and follows them.
Finish: Despite a high-speed leadout from his team, Hayter simply can't hold off Van Aert, who easily comes by him for the stage win.
Stage 2
After such a dominant win on stage 1, Ineos was clearly less keen to pull Van Aert to another stage win.
9.6km: On the final climb before the mostly downhill run to the finish line, Trek is once again setting a very hard pace. I guess this is an attempt to shed faster riders so Stuyvan has a chance at the stage win, but the gap to the breakaway, 43-seconds, is too great with only 700 meters left to climb and a downhill run to the finish.
4.2km: Jumbo, realizing Ineos won't bail them out again today, gets to the front when it becomes clear that the gap, still at 33-seconds, isn't coming down fast enough. We can see them on the radios, presumably asking the managers in team cars if they should even bother attempting to pull back the leaders.
350m: The peloton gets close to the breakaway, but inside 500m to race, it is clear they won't reel them in. Olivier Le Gac from FDJ launches his sprint from an absurdly long distance and gets an impressive initial gap.
Finish: This long-bomb move inadvertently gives Alexis Vuillermoz of TotalEnergies the perfect slipstream to follow and come out of for the win.
Peloton Finish: When the peloton comes in 5-seconds later, Van Aert is clearly the fastest and we see why Ineos didn't jump at the chance to weld the race back together in the final few kilometers and that Jumbo likely threw away a stage win.
Stage 3
1km: After a brief Roglič acceleration that distanced his teammate Van Aert, Jonas Vingegaard smartly goes back to find Van Aert and escort him back to the front.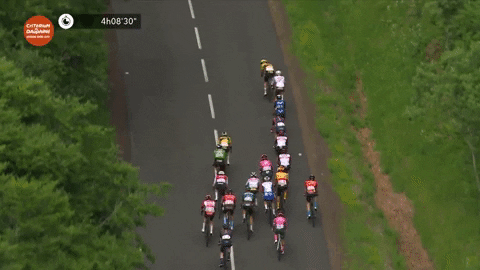 Finish: The Vingegaard escort appears to set up Wout for the stage win, but he sits up to celebrate before the crosses the finish line, which allows David Gaudu to come from behind and blow by him with a well-timed bike throw. Outside of the embarrassment of throwing away a second stage win in this year's race, this costs Van Aert four bonus seconds, which could come in handy over the weekend.
Takeaways:
1) Wout van Aert is the probably strongest rider in this race
His stage 1 victory, which was taken with shocking ease, and ability to finish above the rest of the peloton on stage 2 have confirmed that if the peloton comes to the finish line intact, Van Aert will win the stage.

At this point, it is clear that the only rider who could potentially challenge him in a flat sprint is Dylan Groenewegen, but the Dutch sprinter will have a difficult time making it to the line at any stage in this race.

And as we saw today and yesterday, the only other way to beat Van Aert is to arrive at the 200-meter mark ahead of him via the breakaway or hope he sits up to celebrate early on an uphill finish.
2) Jumbo will be happy they lost the leader's jersey on stage 2, but after stage 3, looks to be stuck with Yellow until Sunday
At no point so far in this race has Van Aert's Jumbo team appeared willing to use the resources they are likely saving for Wednesday's TT and the coming weekend's mountain stages to defend the race lead or fight for stage wins.

Yesterday's loss to the breakaway might have stung Jumbo for a second, but I suspect they were happy to gift the leader's jersey and responsibility for pacesetting to TotalEnergies for today's 3rd stage.

But, stage 3's difficult finish put Van Aert and Jumbo back in the lead, and with a stage 4 TT, they won't be able to gift it away again

And with Ineos & Trek now realizing their chances of beating Van Aert in a sprint are extremely slim, it will be incredibly difficult for Jumbo to control the race through the final stage on Sunday.
3) BikeExchange has to keep trying, even if their chances are slim
It is easy to criticize the BikeExchange team for working to control the breakaway only to see Groenewegen dropped before the end of the stage, but it is important to remember that they don't many other options and this strategy is still maximizing their chance for a stage win they somewhat desperately need due to the ongoing UCI point relegation battle.

And even if Groenewegen's chances of hanging on for victory are as low as 10%, it would still make sense for BikeExchange to continue its current course of action.
4) The Dauphiné breeds chaos and current team dynamics mean this edition likely won't be an exception
An important thing to keep in mind is that while the Dauphiné is a WorldTour race and wins here mean a lot to upstart riders and teams looking for wins/points to please sponsors, the mix of smaller teams compared to grand tours (7 as opposed to 8 rider teams) and lack of overall prestige mean that major teams and riders won't bend over backward to control the race.

This mentality breeds chaos and also means that we should keep this in mind while dissecting the strategy and decisions of the major teams.

While Wout van Aert would love to rack up eight stage wins and an overall title here, his Jumbo teammates would prefer to invest energy making sure they put in individual performances that make it impossible for team management to leave them off the team's Tour de France roster.
5) Today's uphill finish gave us hints where Jumbo-Visma's priorities lie
While today's uphill finish was relatively mild, it still give us a fascinating peek behind the scenes at Jumbo-Visma's three-leader strategy.

The team has the three most likely overall winners of the race in Jonas Vingegaard, Wout van Aert and Primož Roglič. With all three riders being strong in the time trial, there potentially might not be a ton of daylight between the three after Wednesday's time trial. This means that the time bonus seconds from stage wins gained throughout the week could very well decide who takes the overall win.

With Roglič the favorite to take the wins on both stages 7 & 8 next weekend, Van Aert will have to pad his 16-second lead over the other GC contenders via bonus seconds on stages 5 & 6. To illustrate what is on the line, assuming he wins two more stages and pushes the TT with Roglič, he could enter the final two stages with a 36-second lead over his teammate, which could be just enough to convince Roglič to ride defensively on Sunday's difficult summit finish.

And judging Roglič's acceleration that briefly dropped Van Aert towards the end of stage 3, not everyone is on the same GC page at Jumbo. So, keep a close eye on Jumbo in the final few kilometers of stages 7 & 8 to see if they work for a Van Aert's lead or give Roglič the green light to attack early to decimate (aka Roglify) the others.